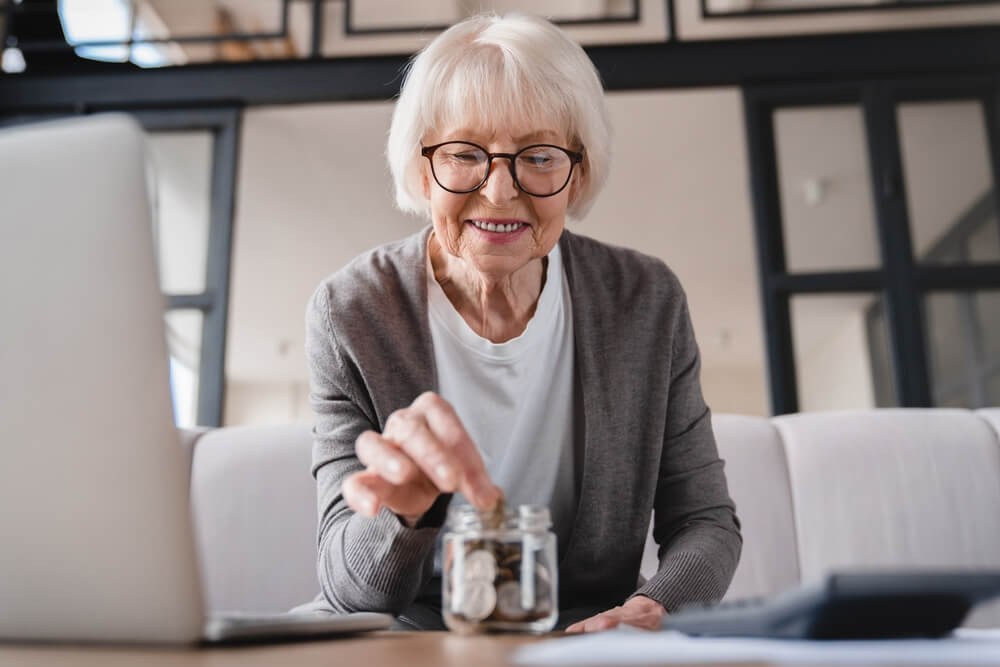 7 Unusual Ways To Save Money For Retirement Online
Seven unusual ways to save money for retirement are as follows:
Pay "invest in yourself" tax
Try a zero-spend challenge
Buy your groceries online
Move house
Hoard $5 bills
Turn your thermostat down
Fund emergencies without touching your retirement fund
Find out more about each of these unique retirement-saving tips in the sections below.
7 Ways To Save Money For Retirement
1. Pay "Invest In Yourself" Tax
When life becomes busy or enjoyable, it's easy to forget about saving money, no matter how foolproof your plan is. So, sometimes you need to trick yourself into putting away money for retirement. And you can do this by paying 10% "invest in you" tax. Essentially, it's challenging for you to save 10% of your income every month (or week, depending on your pay schedule) for retirement.
2. Try A Zero-Spend Challenge
Zero-spend challenges are a relatively new, dare we say "trendy," way of saving money for retirement. You need to set a period where you spend no money.
For instance, you could say, "I won't spend money on Wednesdays and Thursdays." It can be that simple! Alternatively, you can dedicate five or seven consecutive days every month. You'll be surprised how much you can save just by completing a zero-spend challenge at least once a month.
3. Buy Your Groceries Online
One of the easiest ways to save money for retirement is to buy your groceries online. Yes, we know it might seem counterproductive at first, but it forces you to be more deliberate with your purchasing for the week.
Plus, you can take advantage of the online-exclusive discounts offered by many stores. However, to make it work effectively, you need to put the difference between your in-person grocery bill and your online grocery bill into your retirement savings.
4. Move To A Cheaper Location
It's incredible how much money you could save by moving just one zipcode over. If you know you live in an area with a high living cost, consider moving to a cheaper location.
So many people have saved tens of thousands just in one year by moving to another state, city, or county. Of course, it's quite a drastic decision, but it'll likely be worth it in the end — not only will you have more money to put into your retirement fund, but also to enjoy life!

5. Hoard $5 Bills
Hoarding $5 bills is one of the most enjoyable ways to save money for retirement. Every time you get a $5 bill, put it in a jar or other container. Whether you receive the bill as change, a tip, or something else entirely, it goes in the pot.
At the end of the year, count up the bills and transfer them to a retirement account. Then, start the game all over again! You can save thousands in just 12 months by simply putting $5 bills into a jar.
6. Turn Your Thermostat Down
You can save up to 10 percent per year on your heating bill by turning your thermostat down by seven degrees to ten degrees for around eight hours per day. As a result, you can use the 10% savings to pay your "invest in you" tax!
7. Fund Emergencies Without Touching Your Retirement Fund
It can be tempting to delve into your retirement fund when an emergency strikes — especially if you're yet to build a solid crisis fund. But try not to fall into that trap.
There are plenty of options when you're in a rocky patch, one of them being an online title loan from us at At Home Title Loans.
With our loans, you can borrow up to $15,000, depending on the value of your vehicle. You don't need to worry about your credit score as we pride ourselves on providing solutions for everyone.
Below, you'll find the step-by-step process on how to get a title loan from us:
Start the process online using our secure form or call your local store.
One of our licensed vendors will guide you through the process over the phone and ensure you know about the required items. During the same conversation, you need to set a location for our verification agent to come and meet you.
Go to that location with your vehicle, lien-free title to your car, and your driver's license (or another type of state-issued photo identification).
The verification agent will meet you to verify the VIN and request your signature. Then, they'll tell you how much you qualify for after the vehicle appraisal.
We email you the loan documents for an e-signature before depositing the money in your bank account the next working day.

Get An Online Title Loan Today!
Make sure emergencies never stop you from tackling the top seven ways to save money for retirement online with a completely online title loan! Fill out our secure online form or give us a call at 800-514-2274 to get started today!
Note: The content provided in this article is only for informational purposes, and you should contact your financial advisor about your specific financial situation.