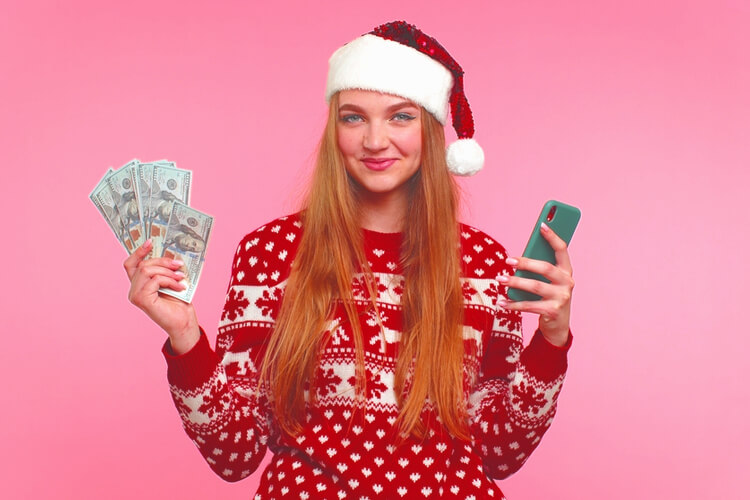 Festive Ways To Earn Extra Cash For Christmas
If you are looking for ways to earn extra cash for Christmas, try out one of the following eight festive ideas:
Become a shopper
Sell old items
Use cashback advantages
Become a tasker
Test products
Babysit
Hang Christmas lights
Make crafts
Any one of these ideas can help you get extra spending money for holiday gifts and activities. Keep reading below to learn more about these top ways to earn extra cash for Christmas.
The Best 8 Ways to Earn Extra Cash For Christmas
1. Become a Shopper
One of the most festive ways to earn extra cash for Christmas is to become a shopper. During the holiday season, people are shopping way more than usual. Whether it be for gifts or groceries, many individuals are opting for online shopping and delivery.
By working as a shopper on Instacart or Shipt, you get to make money just by shopping for people. This is a great way to get in the Christmas spirit while still making a little extra cash along the way.
2. Sell Old Items
Many individuals look online to purchase used items as Christmas gifts. If you have old clothes or technology that you don't use anymore, you can sell them online for cash. Not only will this bring in extra money, but it will also help to clean out your home and make space for the new presents to come in.
3. Use Cash Back Advantages
If you expect to be Christmas shopping as well, don't forget to use cashback advantages. Cashback advantages through Rakuten can get you extra cash while still shopping for the items you already intend to purchase. If you want to earn cash back on groceries, try out Ibotta.
4. Become a Tasker
During the holiday season, there are tons of tasks that need to be done, but not everyone can perform tasks on their own. You can use Taskrabbit to make a little bit of extra cash by helping those in need get done with their everyday tasks. Better yet, you get to set your own rate and schedule with this idea.
5. Test Products
Many people do not realize that companies pay individuals to test out their products. Especially during the holiday season, there are often tons of products to be tested. One of the best companies to work through is Pinecone Research. This paid survey site will send you products that you test for money.

6. Babysit
It seems that parents are always looking for babysitters to watch their children while they are away at Christmas parties and get-togethers. If you like children, consider babysitting. You can always babysit for individuals you know personally or advertise your services through social media or care.com.
7. Hang Christmas Lights
The holiday season is full of Christmas trees, lights, and other festive decorations. Although nearly everyone loves these decorations, not everyone can hang them up. You can make a couple of extra bucks simply by hanging up Christmas lights and other decorations for those who need a bit of help. You can easily advertise your services by handing out flyers in your area.
8. Make Crafts
Handmade crafts are always some of the most beautiful and heartfelt. If you are good at crafting, you can sell your crafts online on sites like Etsy. The holiday season is one of the top times to sell crafts, but you can use your Etsy account to sell your crafts all year long too.
Do You Still Need Money?
If you have tried out one of these ways to make extra cash for Christmas but are still coming up short, another option is to get a title loan online. With title loans, you can receive fast cash you need for necessary expenses, like bills and food.
Whereas the tips above can get you a bit of quick cash for gifts and presents, title cash from At Home Title Loans can get you up to $15,000, depending on the value of your vehicle. This large amount of money is an option for when you can't pay for rent, utilities, food, clothing, medical bills, and other extreme situations.
How Do Title Loans Work?
How title loans work is that your vehicle gets evaluated to determine its value. Depending on its value, you can be awarded up to $15,000 in title cash. In addition to the vehicle, you will also need your driver's license and a lien-free title in your name. As you are paying back your loan, you get to continue driving your car as usual.

Get Started Today
In addition to trying out one of the best ways to earn extra cash for Christmas, you might want to consider applying for a title loan with At Home Title Loans if you are in an extreme situation. To get started, all you need to do is fill out our online form today.
Note: The content provided in this article is only for informational purposes, and you should contact your financial advisor about your specific financial situation.