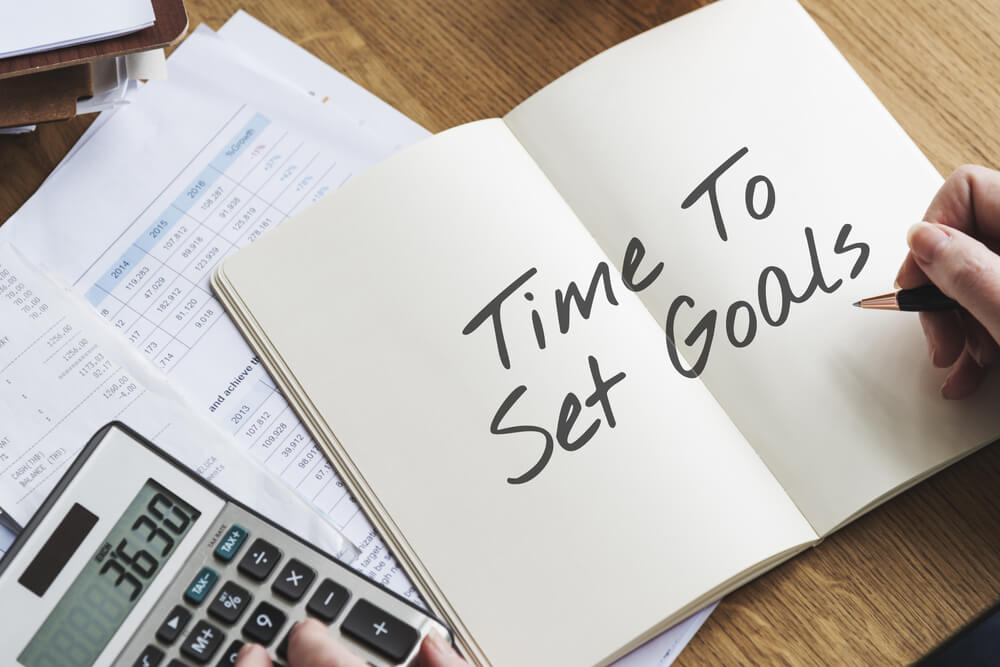 How to Set Realistic Money Saving Goals and Which to Do First
Money saving goals work the same way as the ones you set while working out. They have to be realistic and achievable, and translatable into concrete steps you can take every day.
What do you think will happen if you try to lift 50 pounds on your first day at the gym? You'll fail spectacularly and strain your muscles so much that you won't be able to complete the rest of your workout. It works the same way with money saving goals.
In fact, people who start with small goals are more likely to gain the confidence and habits to achieve larger goals.
Here's How to Set Realistic Money Saving Goals
1. Find Areas Where You Can Save
For one month, write down every single expense in a notebook or a budgeting app. Divide them into categories, such as food or transportation, to arrive at your total monthly expenses. This is your actual spending.
Then, write down your ideal budget, or how much you would like to spend on each area. This is your desired spending for each category.
What categories would you like to save more? Example: food, entertainment, groceries
How much would you like to save each month? Example: "I want to save $200 on my household groceries."
What are specific ways to save? Look online for ideas. Example: "I will use DIY household cleansers instead of buying expensive brands. I will look for recipes that use cheaper cuts of meat."
This may be a great way for you to start because it provides simple money saving goals and specific steps to achieve them. The results are also immediate: you can see the difference in your monthly expenses and your bank account balance.
2. Set up a Rainy-Day Fund
Financial experts say that you should have at least 6 months' worth of living expenses set aside to cover sudden emergency expenses or a loss of income. You can keep this money in a savings account which should be easily accessible when you need it.
Depending on your financial situation, aim to save about 10% to 20% of your income for a Rainy Day Fund. If that's not possible considering your specific situation, think of the money saving goals that seem more realistic for you, then look for ways to raise the money another way.
For example, can you sell unused items online, get a side hustle, or ask your employer for an extra shift? If yes, then immediately deposit that extra money into your Rainy Day Fund, and only use your regular income for monthly expenses.

3. Identify High-Priority Short-Term Goals
Once you have established your Rainy Day Fund, you can now create short-term money savings goals. These goals can typically be achieved within a year or less. They may include:
A family trip
A new home appliance or furniture (like a new refrigerator or sofa)
Tuition for a class or seminar
A gadget like a new computer or phone
Seed money for a small home business
Holiday gifts
While these are personal money savings goals, and it's your right to choose what is important to you, it is prudent to prioritize goals that increase your ability to earn more.
For example, if a powerful laptop can help you find an online freelance job, or if a class can increase your chances of a promotion, then by all, means go for it. These work as investments that will eventually make it easier and faster to reach other money savings goals.
The next priority is money savings goals that can help prevent overspending in the future. For example, saving for holiday gifts can help prevent the financial shock in November or December.
4. Identify Important Long-Term Goals
This includes saving for retirement, buying a home, or doing home renovations to improve your property value. These money saving goals are bigger, can take more than a year to achieve, and will probably need some investment tools to beat inflation.
Plan B: What to Do When Your Savings Can't Cover Emergency Expenses
These money saving goals can help you slowly build financial security and prosperity. But as we have all experienced during the COVID-19 epidemic, even the most money-savvy, budget-conscious people can be taken by surprise by circumstances beyond their control.
People lost their jobs or had to pay for medical bills. Entrepreneurs struggled with business losses during lockdowns. While the economy is slowly picking up, and there are definitely brighter times ahead, many are still financially vulnerable to any kind of unexpected and urgent expenses. But there is an option that can help you overcome the hardship, and it's called car title loans.

What Is a Car Title Loan?
Car title loans are loans that you can get using your car title as collateral. You can borrow up to $15,000, depending on your vehicle model and condition. You can use any car, truck or van as long as it is registered in your name, and lien-free (with no outstanding loans or judgements against it).
How to Get Car Title Loans Completely Online
Car title loans don't require a high credit score or proof of employment, that's why it's easy to be approved for one. There are also reputable lenders, such as At Home Title Loans, which simplify and speed up the process even more.
Through At Home Title Loans, you don't even have to line up at an office to inquire or start your application. You can get car title loans completely online! Here's how title loans work online:
Submit the secure inquiry form on our website, and one of our licensed loan specialists will call you to personally explain the process and the requirements.
Set up an appointment with our verification agent. He or she can meet you at any location that is convenient for you. The agent will deliver you the loan packet, verify your documents and the car's VIN number, and give you forms to sign.
If your loan is approved, we'll email the documents for your e-signature and then deposit the money into your bank account the next day. See how fast it is to get car title loans completely online?
Get Started with Car Title Loans Completely Online Today!
Online title loans allow you to raise emergency money quickly, and with minimum hassle. And with At Home Title Loans, getting car title loans completely online still has that human touch. You work with loan specialists who guide you through each step, and work with you to find the best package for your needs. Get started with your online title loan today by calling us at 800-514-2274 or submitting a short online form on our website. Contact us, and we'll be there to help.
Note: The content provided in this article is only for informational purposes, and you should contact your financial advisor about your specific financial situation.