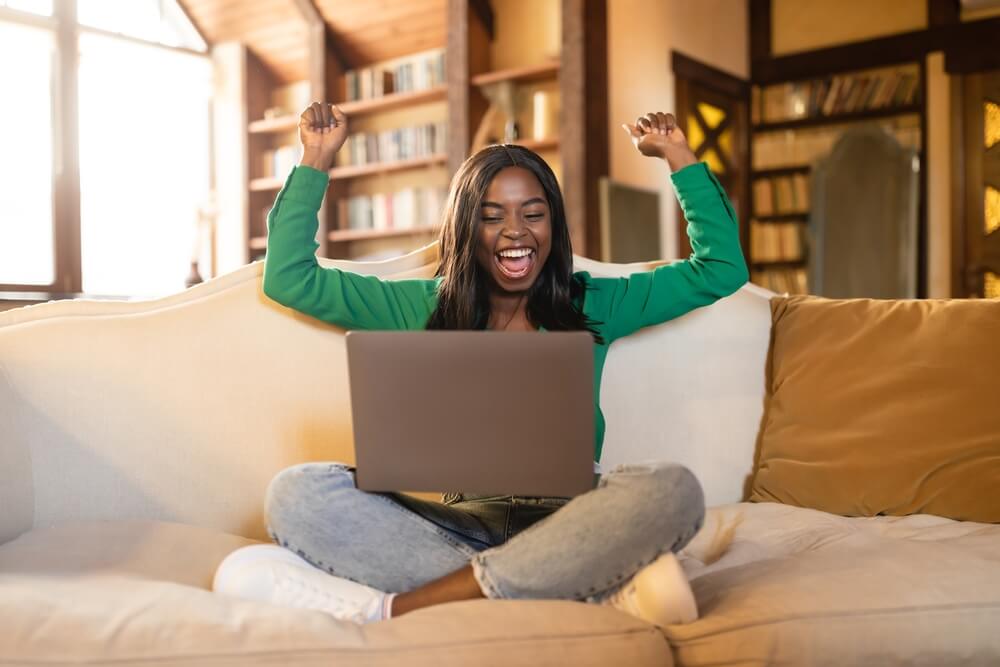 How To Get A Loan Without Leaving Your House
Skip the traffic and the long lines at the bank. You can apply for a personal loan of up to $15,000 from the comfort of your home—and get the money on the very next day. The loan can be used to cover emergency expenses like hospitalization, house or car repairs, funeral expenses, unexpected important travel, or any situation where you need to raise money right away. You can even apply for one if you have a low credit score.
What Kind Of Loan Can I Get At Home?
We offer a vehicle title loan: a short-term loan where you use your vehicle title as collateral. The title just needs to be registered under your name and be lien-free. This means that it's a "clean" title— it is already fully paid off and owned. It is not currently used for collateral for other loans, and there are no judgments against it. With the help of one of our certified lenders, you can get a title loan online and receive cash without leaving the comfort of your couch.

Here's How To Get A Vehicle Title Loan Without Leaving Your House
1. Fill Up The Online Form
You start by visiting our Home Page and finding a short online form on the top right. Filling the form out takes no more than 5 minutes as it requires some basic information about you and your vehicle. The information will only be used to contact you and won't be disclosed to any other parties. The site is private and secure. You can also use the chat form or call 1-800-514-2274 to begin.
2. Talk To One Of Our Licensed Vehicle Title Loan Vendors
The information is sent to your nearest vehicle title loan lender that is certified to operate in your state. They will contact you shortly (so keep your phone nearby!) to explain the process, requirements, and answer any questions you may have, and set up an appointment for the representative to meet you at a location of your choice which can be your home or the nearest coffee shop.
3. Meet With An Agent For A Vehicle Inspection
Be ready to show a representative your vehicle, its title, and a government-issued I.D. card. The loan specialist will inspect the car to determine the loan amount you qualify for and verify your car title. If all is in order, and you agree to the terms of the loan, you will be given a loan packet and asked to sign some forms.

4. Sign The Paperwork
The agent who will drive to meet you at your location will also bring the loan packet and some of the documents to be signed. After the vehicle inspection, you'll be offered a loan amount. If it meets your expectations, you can sign some of the documents.
5. E-Sign The Emailed Documents
The rest of the documents will be sent to your email. They should be e-signed and sent back. The money will be deposited to your bank account on the very next business day.
Who Is Eligible For A Vehicle Title Loan?
One of the advantages of online title loans is that it has very minimal requirements. Unlike traditional personal loans, you do not have to meet a certain credit score or present your employment history. You just need to be an 18-year vehicle owner with a lien-free title and be able to present a valid government-issued ID, such as a driver's license or passport.
Bad credit is not a problem, and even if you have no credit history, you're welcome to apply.
What is more, you can still use your car while you're paying off your loan, so it won't affect your ability to go to work or move around freely. In fact, some Uber drivers have taken out our vehicle title loan precisely because of that benefit.
Get Your Vehicle Title Loan Today!
With an At Home Title Loan, you don't have to go to a branch to apply for a loan. Instead, after you reach out through a form or a call, one of our vendor representatives will contact you and then meet you where it's convenient for you—whether it's your office, your home, or whatever place you name.
It's one of the most convenient ways to raise money for emergency expenses. Contact us and start your loan application today.
Note: The content provided in this article is only for informational purposes, and you should contact your financial advisor about your specific financial situation.