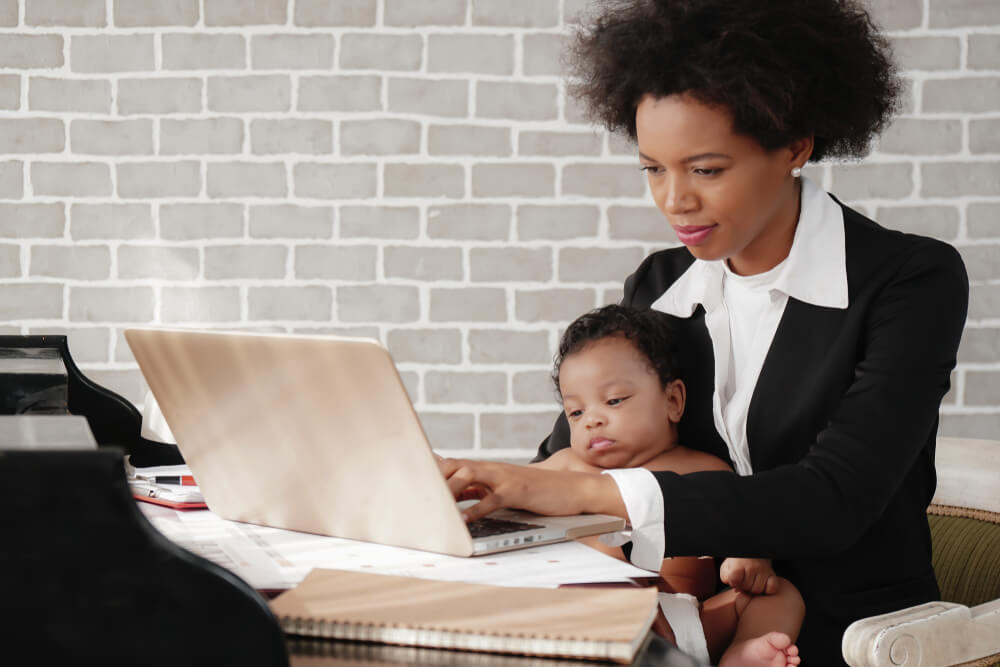 Short on Cash? Here's How a Single Mom Can Make Money from Home
There's no doubt about it — making money as a single mom is extremely difficult. Most jobs require you to be away from 9 to 5 which is near-on impossible when you have young children.
However, all hope is not lost. There are plenty of ways to make money as a single mom from home including online title loans. All you need is a laptop!
How Can a Single Mom Make Money from Home?
1. Participate in Surveys
This is by far the easiest way for you to make money at home. You won't get rich from them, however, using your spare 15 minutes to make some extra cash never hurts anyone.
Various sites are offering to pay you for taking part in surveys. Just bear in mind that they aren't all legitimate. Your best bet is to choose a site that has plenty of 5-star reviews.
We suggest trying the following:
Swagbucks
InboxPounds
Toluna
LifePoints
The OpinionPanel Community
One more thing to note — always read the TC's before creating your account!
2. Become a VA (Virtual Assistant)
Some moms who are trying to find out how a single mom can make money from home wind up being virtual assistants. Hiring online is a norm these days, especially since the COVID-19 pandemic hit.
As a virtual assistant, you will be doing any (if not all) of the following if you choose this money-making path:
Receiving phone calls
Transcribing
Writing emails
Loads of other administrative tasks
The best part is that you will generally be paid at least $30 an hour.
3. Start Childminding
If you are already at home all day looking after your own little ones, why not monetize taking care of other's children?
You don't need any special qualifications so as long as your criminal record is clear, you can start childminding. The ratio is one adult to six kids under the age of 8.
Childminders usually charge per child per hour. However, the exact rate will depend on where you live.
4. Be a Doula
If you want to know how a single mom can make money from home, here's another idea for you – try being a doula. "Doula" is a fancy term for a "birth coach". If you have given birth, you can become a doula to help new moms through the process. In other words, you will be considered as an "expert in parenting".
Whether it is helping the new mom to cook and clean, or assisting in their newborn's care, doulas do it all.
Generally speaking, you will be introduced to the person you're helping before they give birth. This way, you can build up a rapport before the whirlwind hits.
If you are genuinely serious about this role, however, you should take a course.
5. Sell Your Art on Etsy
Making crafts and selling them can be another lifesaver in trying to figure out how a single mom can make money from home. Regardless of the art or craft you do, you can monetize it. Whether you use Etsy, Folksy, or NuMonday, they will advertise your products to the right market.
The websites will take a commission (except NuMonday) of every sale which can be anywhere from 2% to 3%. But this essentially pays for your own virtual shop and advertising. It takes the stress out of learning SEO, spending time marketing your products, and building a website.
6. Create an Online Course
For those of you with passion and skill in a certain pastime, creating a high-quality online course can be a real earner. You will need to set aside some time to create it, but after that, you can simply forget about it!
Sites like Udemy will allow you to earn from all kinds of skills. It's a win-win!

Emergency? Acquire Title Loans
Typically, making money takes time. However, single moms like yourself don't always have time on their hands. So, if you ever find yourself in a pinch, at-home title loans can be a way to fund your emergency.
What Are Title Loans?
Title loans are financial aids that allow you to borrow a lump sum of cash based on the value of your vehicle. The application process is simple and can be over in as little as half an hour — perfect when you have kids buzzing around you at all times.
How to Obtain a Title Loan
Just follow this step-by-step guide and you'll have your money in no time:
Go to our Home Page.
Fill in the application form. We ask for simple information. It shouldn't take longer than 5 minutes. You can also choose completely online title loans, and in this case, you don't even have to leave the comfort of your own home – At Home Title Loans will do everything for you!
Wait for the phone to ring. One of our friendly, licensed vendors will get in touch to discuss the rest of the process. Now is a great time to ask any questions too.
During the conversation, you'll have to set up an appointment to meet a verification agent. Next, head to the meeting place with your driver's license, vehicle, and your lien-free vehicle title.
Wait while they check your VIN and ask you to sign a few forms.
The verification agent will email you some documents.
E-sign them.
Receive your money on the next working day!
It's as simple as 1, 2, 3!
Now that you know there are quite a few ways of how a single mom can make money from home, use any of these ideas and go for it!
And if you ever need assistance with your urgent expenses, don't hesitate to contact At Home Title Loans and let us help you in the time when you need it most!
Note: The content provided in this article is only for informational purposes, and you should contact your financial advisor about your specific financial situation.