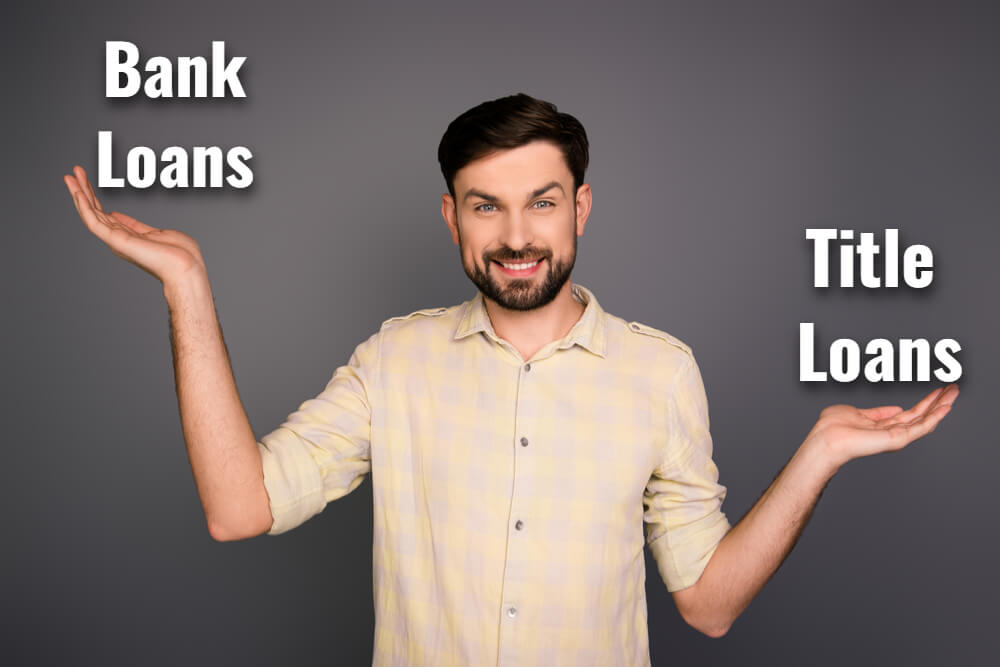 Car Title Loans vs. Bank Loans: What's The Difference?
If you've ever found yourself needing a bit of extra cash, then you probably know about car title loans. The only thing you may not know about is the actual difference between traditional loans and title loans. So, if you have a rough idea of what conventional loans are and try to fit the car title loan concept into that idea but fail to do so, don't worry, as we're here to help you. From this post, you'll learn the main differences between the two loan types and figure out how to make the right choice that meets your needs.
Here's What's Different Between Bank Loans And Car Title Loans
1. Car Title Loans Are Faster
Time is always a factor when you're looking for a loan while coping with a financial emergency. Such situations can throw you and your family into a huge financial loop. These include pressing home and car repairs, trips to a hospital's emergency room, and last-minute travel.
With car title loans completely online, you can typically qualify for the loan and get the cash you need extremely fast compared to bank loans. While it can take as little as 30 minutes to qualify for car title loans, the process can be painfully slow otherwise.
Banks often like to take their time with loans, not just when it comes to qualifying, but also in finally getting you the cash you need. Many lenders will be able to give you the car title loans cash you qualify for as soon as the very next business day.
2. Title Loans Are Secured
Car title loans offered by professional lenders are always secured. This means that to get the cash you need, you offer some form of collateral to secure the loan. In this case, it is simply the title of your vehicle. This does not mean the lender owns your car. You can drive it for the duration of the loan. On the other hand, many bank loans are unsecured, making them comparatively riskier for the issuing party (i.e. banks).
To qualify for an unsecured loan from a bank, including payday loans, credit cards, and mortgages, you may also be hit with a laundry list of qualifications needed to even be considered for the loan in the first place. There are far fewer items needed for car title loans.

3. The List Of Qualifying Requirements
Car title loans are almost always easier to qualify for compared to bank loans. You need your car's title that is in your name and is "clear," meaning there are no loans or judgments tied to it, and you aren't making monthly payments on it. You own it.
There are very few qualifications beyond that for car title loans. For example, to qualify for a car title loan with a lender, such as At Home Title Loans, the only additional required items are your ID and your vehicle for a quick inspection. In addition, you must be at least 18 years old.
On the other hand, bank loans usually require more from a prospective borrower. One of the biggest differences is what kind of credit history you need to have to qualify for a loan. Bank loans typically will be given only to those who the bank feels have a good credit history.
That's not the case with many lenders specializing in car title loans. At Home Title Loans encourages those with a range of credit histories — good or bad — to apply. Besides, your credit history does not instantly disqualify you from obtaining car title loans of up to $15,000 through At Home Title Loans.
4. Flexibility
At Home Title Loans offers greater flexibility in the actual car title loans process than bank loans. It all starts online.
On our website, go to our online title loan inquiry form, where you will submit basic personal information, including your name, email address, phone number, and zip code, as well as your car's year, make, and model.
You'll receive a call from a loan representative very soon after you submit the form. Over the phone, our representative will determine how much of a loan you may qualify for and what the preliminary terms will be. Next, you'll set up an appointment with a verification agent to meet you at a time and location most convenient to you to verify your title.
They'll arrive with a loan packet, your VIN will be verified, and your car will undergo a fast inspection. Your loan documents will be emailed to you for your e-signature. Then, your loan cash will be deposited directly into your bank account.

Get Started Today
The main differences between car title loans and conventional loans are the speed, a list of requirements, flexibility, and the fact that the former is secured. Car title loans are a fast and easy way to get you back on your feet financially. Just go online, give us a call, or visit one of our many At Home Title Loans locations today.
Note: The content provided in this article is only for informational purposes, and you should contact your financial advisor about your specific financial situation.